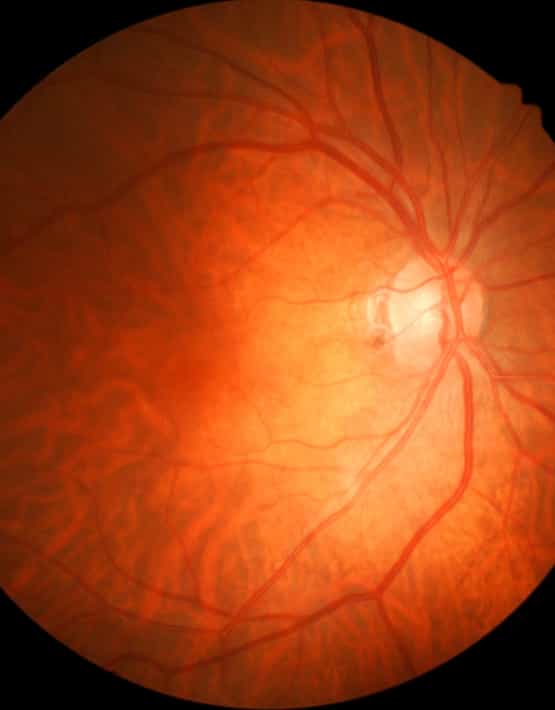 Better Vision Health Through Better Technology
Our commitment to your vision health begins with an investment in state-of-the-art diagnostic imaging technology that allows us to detect and manage serious eye diseases. Some eye diseases don't show any symptoms in their early stages, so it's essential to have regular eye exams to catch these conditions and begin treatment as early as possible.
Optical Coherence Tomography (OCT)
To see and evaluate any changes in the tiny blood vessels inside your eyes, we use optical coherence tomography to take a non-invasive, 3D cross-sectional image of your inner eye.
The OCT takes 45,000 scans per second of your retina and optic nerve. These scans are analyzed by advanced computer technology to produce a 3D image. These images allow our optometrists to view your retina and optic nerve in microscopic detail. Our device also does OCT angiography for early detection of vessel leakage in wet macular degeneration and diabetic retinopathy.
Health Assessment
Before every eye exam, we'll discuss your overall health and family history, address your concerns, and give you time to ask questions.
The initial assessment allows us to determine any risk factors you have for eye diseases and helps us tailor the rest of the exam to your specific needs. The more information you provide, the easier it is for us to help you achieve clear vision.
Visual Acuity Testing
Now comes the part where you read the letters on the wall! Following the initial discussion, we'll evaluate your eyesight. This part of the eye exam is known as visual acuity testing. This test determines your prescription for glasses or contact lenses.
Various tools like the eye chart and phoropter are used to assess your visual clarity and vision sharpness during this part of the exam.
Eye Health Assessment
The ocular health assessment separates a vision test from a comprehensive eye exam. This portion of an eye exam is critical for diagnosing potential eye diseases.
Many common eye diseases, like glaucoma, age-related macular degeneration, and diabetic retinopathy, develop without pain or other symptoms. Eye exams help detect these diseases before they permanently damage your vision.
We often use retinal imaging to give us a clear picture of the internal structure of your eyes. We also use tonometry to check your intraocular pressure, a common characteristic of glaucoma. If further treatment is needed, we'll provide a plan and discuss your next steps.
Optomap
The Optomap takes super wide-angle images of the retina, helping us detect, track, and treat eye abnormalities or diseases. It lets us see 82% of your retina in one image, and we can save the image to compare it over time as needed.
An Optomap can also help us find early signs of diabetes, cancer, stroke, and cardiovascular disease before you experience any symptoms.
Our Location
Find us just off Broadway and John in the little white standalone building.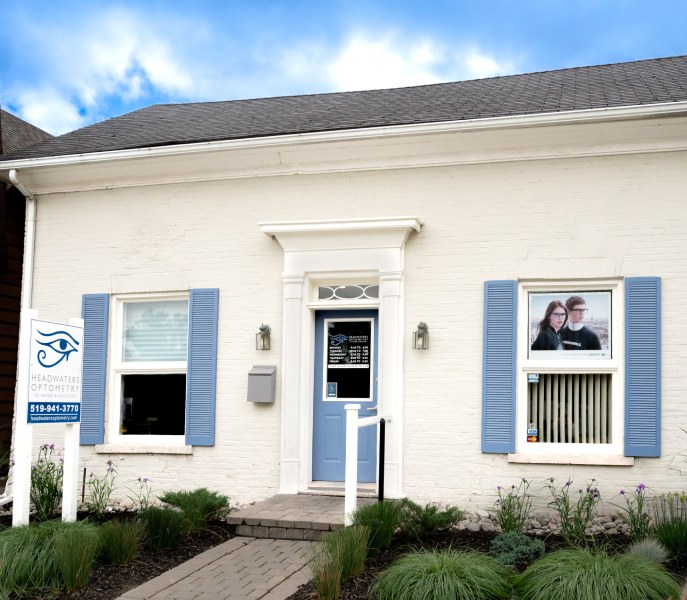 Our Address
230 Broadway

Orangeville

,

ON

L9W 1K5
Contact Information
Hours of Operation
Monday

:

8:30 AM

–

5:00 PM

Tuesday

:

10:00 AM

–

7:00 PM

Wednesday

:

8:30 AM

–

5:00 PM

Thursday

:

8:30 AM

–

5:00 PM

Friday

:

8:30 AM

–

2:00 PM

Saturday

:

Closed

Sunday

:

Closed
We are closed from 1 PM to 2 PM from Monday to Thursday for Lunch.
Our Brands